How It Began
          The Polymer Technology Summer Camp Project was started in 2003. An objective of this program is to provide polymer research experience during this summer holiday.We select 20 university students each year from junior and senior classes of science or engineering school, majoring in polymer, industrial chemistry, and chemistry or rubber technology. The qualified students will be trained by Innovation Group's R&D staff and management team on polymer knowledge, polymer research and business practice at Innovation Group's Research and Training Center for two month, between April and May of each year.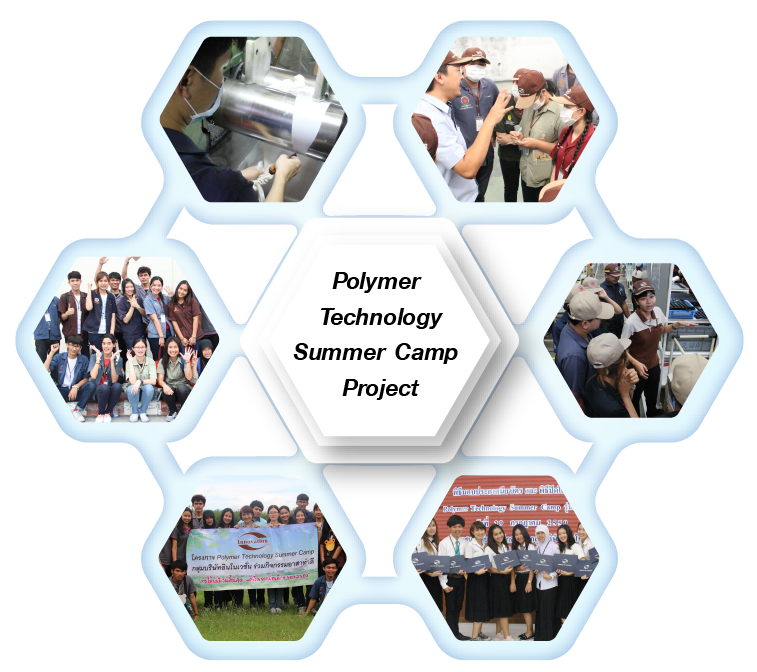 Goals
To enhance the knowledge of polymer processing technology in class-room and research laboratory under the real industrial business environment.
To provide the students the real business practice in polymer industry.
To teach the students to work as a team.
To give the students on-the-job training in research.
To enable the students to transfer to their future job the knowledge that they received from the Innovation Group.
To prepare the students to be ready to work in the industry from what they learn from the real business practice.
Qualifications
Students each year from 3th or 4th year from the school of science and engineering from universities in Thailand.
Student must has GPA  2.50 up and above
Document for applications
Letter of intention from university for its student to attend Innovation Group's Polymer Technology Summer Camp
Polymer Technology Summer Camp Application form. (download on www.elastomer-polymer.com)
Resume (If any)
ID card
Transcript
Selection methods
Selected from the applications by R&D Manager.
Announcements
Project Coordinator
Nuchsarawadee
Remark:  Projects are supported by Innovation Group's management.
Facilities
Student dormitory (the second floor, fan, and separate male and female)

Male – 2 rooms for 7 people
Female – 4 rooms for 12 people

Living room and Kitchen
WIFI
Security guard
Remark: Students must prepare some of their own necessities such as bedspread, pillowcase, blanket, and personal appliance.
Contact and Apply
Business Relations Department
Innovation Group (Thailand) Ltd.
18 Soi Ramkhamhaeng 30 (Ban rao) Huamark Bangkapi Bangkok 10240
Tel. 02-3755197 Ext.279 Fax. 02-7321778
E-mail: nuchsarawadeew@cheminno.co.th , webmaster@elastomer-polymer.com
---