Elastoflex® MA

Elastoflex® MA is moisture absorbent materials. They are designed for eliminating the moisture, bubbles and porosity in plastic product and improve product quality and productivity without impacting on mechanical properties. These materials can be widely used in the PE, PP, EVA etc. and can used in ABS. We can cut off drying step in the process.
Elastoflex® also provides :
Improve surface appearance
Reduce moisture streaks or silver streaks
Easy processing can be directly added into injection or extrusion machine by dry blending.
Recommended dosage is 2-3 %wt
Application:
High filler loading such as PP, PE, EVA injection and extrusion.
High scrap and recycle loading.
Grade
Grade
Melt Flow Rate, g/10min
(190°C, 2.16kg)
Density, g/cm3
Elastoflex® MA65
6-10
1.6
Datasheet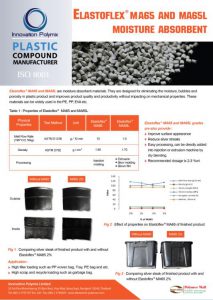 Elastoflex® MA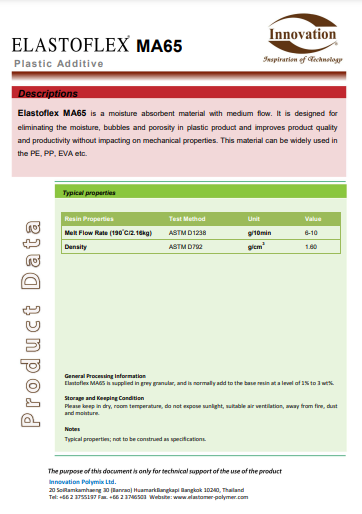 Elastoflex® MA65
---